NAYDO eDEVELOPMENTS
News & Updates from North American YMCA Development Organization
October 2021
.........................................................................................................................
Message from the NAYDO Chair




A Season of Change
Dear Members,
Fall is in the air. Cooler weather. Changing leaf colors. Shorter days. The start of NAYDO's new membership year. The holidays will be here before we know it.
As we move into the season of giving, I want to propose two actions each of us can take. First, let's give to each other this year. Share your Y passion! Time with NAYDO, whether virtually at a network event or in-person at our conference, is the perfect place to contribute your experience, expertise, ideas, and successful tactics. The more we share, the more we all improve, and the more our Ys and our communities will benefit.
Secondly, take time for a moment (or two or three …) of gratitude. We talk about showing our gratitude to our donors. But, what about our family, friends, co-workers, NAYDO colleagues, volunteers who take on extra duties, and many others who assist us, share resources, or provide time to listen and offer suggestions?
In spite of these crazy times, there is much – and many people – for which we are thankful. Let them know. I want to thank our extraordinary NAYDO Council, all conference volunteers, and each and every NAYDO member for your efforts to keep us relevant, responsive, and resilient.
I challenge you to find at least one way to become more involved in NAYDO in 2021-2022. We'll all benefit from it, and for that I am most grateful.
In Y service,
Zane Korytko
NAYDO Council Chair
Chief Executive Officer | Directeur General
YMCA of Greater Moncton| YMCA du Grand Moncton
NAYDO MEMBERS ONLY CONFERENCE REGISTRATION IS OPEN!
Lowest Rates through October 28!

Beautiful Tampa Florida is the location of NAYDO's 41st Annual Conference on YMCA Philanthropy, April 6-9, 2022. Download the BROCHURE or view the SCHEDULE SUMMARY.

Find the inspiring keynote, informative educational workshops and YMCA Impact Tours, fantastic network activities and social events, meaningful Philanthropy Live! projects, a variety of volunteer opportunities, along with the application forms/details for the 2022 Communications Contest, Eagle Awards, Young Professional Program, and Financial Assistance on the Conference website. See brochure page 2 for Quick Links.

Registration Reminders
Not sure who will be attending?
NAYDO members can reserve spaces without names to guarantee the lowest rate - but the process is different this year.
Before starting the registration, the person who will be the contact should email info@naydo.org with the number of spaces needed. On the same day, a customized code and directions will be sent to the contact person. This is a member benefit and requires that the real attendee name is substituted in the registration database by the January 31, 2022, registration deadline, the same date that all hotel reservations must have actual names, not placeholders, that match those in NAYDO's registration database.

Three Payment choices:
1. Pay in full in one payment to pay a lower rate of $650 (NOTE: If you select this option, the system requires you to pay in full for optional events you select, not just the registration fee. An alternative is to add optional events at a later date.)
2. Pay $100 deposit to reserve your space and lower rate; pay the balance in January 2022. ($700 rate through Oct. 28; $750 rate October 29-December 6) Deposit option is not available after December 6.
3. Pay $50 application fee on the registration site if you are applying for financial assistance AND have completed the online Financial Assistance Application Form in addition to the registration form.

>> REGISTER NOW

Hotel Rooms
Did you know 75% of the NAYDO room block is sold out?!
If you plan on attending NAYDO 2022, be sure to reserve your hotel rooms at the JW Marriott or the Tampa Marriott Water Street. The conference sessions take place in both hotels: there is no headquarter hotel. If you cannot get all the nights you need, book as many nights as you can and forward your confirmation to info@naydo.org with a request for nights you are missing. NAYDO can help you. Please do not book elsewhere.
Pandemic Precautions
NAYDO is closely monitoring the status of the pandemic, staying abreast of the latest trends in large group events in terms of safety practices and attendee guidelines, as well as consulting with our medical advisor. NAYDO is committed to adjusting activities in whatever way is necessary to ensure a safe environment for the conditions that exist in April 2022.

FREE SCHOLARSHIP FOR NAYDO 2022 CONFERENCE REGISTRATION

Enter to win a FREE REGISTRATION ($650) to the NAYDO 2022 Conference on YMCA Philanthropy!
Don't miss this opportunity to join your colleagues for an amazing conference. One lucky winner will be drawn at random on January 20, 2022. Check the NAYDO website homepage for the winner, and it will be announced in a January eblast. Financial assistance applicants are welcome to enter.

This scholarship is sponsored by the Capital Campaign Toolkit. Special thanks to Amy Eisenstein, ACFRE, CEO and Co-Founder of the Capital Campaign Toolkit. Amy is a highly-rated NAYDO webinar and conference presenter and will be part of NAYDO 2022 in Tampa with 7 Steps to Planning a Successful Capital (or Comprehenisive) Campaign.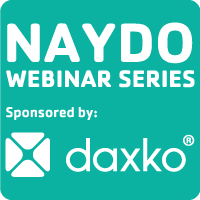 Thanks, John, for Your Feedback on the September Webinar!
"Thank you for a job well done with U.S. Federal Earmarks are Back: Learn to Navigate the Process. I had zero experience with earmarks and find it a little intimidating, but Katie explained it in such a way that I am eager to share with YMCAs. It was one of the best instructional webinars I have attended in years." John Biggins, American City Bureau President and a NAYDO 2022 sponsor and presenter
Upcoming NAYDO Webinars

October 21, 1:30 pm Central / 2:30 pm Eastern
Mastering Storytelling with Social Media to Invite Conversation, Connection & Conversion
Presenter: Martine Cadet, Social Media Content Coach and Creator, Kaderique Media Boutique LLC
Your story, your voice, your impact: using what you know to establish your expertise and credibility on social media so you can influence and impact as many people as you possibly can – without paying for marketing or advertising. In this webinar, Martine will show you how to:
• Use social media to build human relationships with your members and donors and create trust with your brand
• Emphasize your unique value proposition digitally and turn your audience into life-long die-hard fans
>> Register

November 18, 1:30 pm Central / 2:30 pm Eastern
Rubber Stamps Don't Fundraise ... But Engaged Boards Will!
Presenter: Brian Saber, Asking Matters
If we want our boards involved in fundraising, we need good governance. In this webinar, Brian will discuss everything from recruiting board members to how board meetings are run to how board member performance is evaluated and impacts the quality of their fundraising. Participants will learn how to:
• Set the right fundraising expectations for board members
• Build a strategic board fundraising plan
• Run the board in a way that fosters fundraising
>> Register

December 9 (one week earlier), 1:30 pm Central / 2:30 pm Eastern
Setting Your Course in an Era of Disruption and Uncertainty
Presenter: Damon Colaluca, Colaluca & Associates
Leaders are experiencing a rapidly changing and volatile environment that makes delivering your mission increasingly tricky. Shifting funding priorities, new regulations, political turmoil, volunteer leadership scarcity, rising community needs, increased competition, you name it — the waves of disruption crash against your YMCA faster and faster. As quickly as your team manages one crisis, another one appears on the horizon, and your proven tools and tactics seem to be less effective every day. So, it's no wonder you and your team are exhausted. The pace of disruption is fundamentally changing the way we work, the way we fund our impact, and the way we see the future. This webinar will give you the mindset, skillset, and toolset to confidently lead your organization in this new reality, no matter what disruptions come your way. You will:
• Discover the mindsets needed to succeed in this new era
• Assess your Y's capacity to anticipate, design for, and implement change
• Apply innovative tools to give you clarity and spark action
>> Register
NAYDO KICKOFF EVENT FOR ALL NETWORKS
Tuesday, October 26, 1-2:30 pm Central / 2-3:30 pm Eastern

Join in the official kickoff of the 2021-2022 NAYDO Networks! The kickoff is designed to ignite innovative approaches to development within your association/alliance through a high-level overview of philanthropy trends followed by network conversations on presented topics. Jordan Sommaggio, Community Development Director with the YMCA of Southern Nevada, will introduce concepts like public-private partnerships, digital development, and alternative giving vehicles. In network breakouts, participants will discuss how these concepts are being or could be applied at their Ys. You will gain new ideas for advancing the mission through development and a foundation for upcoming topic-focused presentations. During the kickoff, you also will meet your network leaders and learn what other virtual and in-person NAYDO network events are planned.
>> Register
NOVEMBER NETWORK EVENTS
Participate in NAYDO Networks for additional insights, ideas, and discussion. You can join in any or all of the 10 Networks. Here are the next events:
November 4, 12 pm Central: International/Diversity, Equity, Inclusion Network
Sponsor: The Redwoods Group
The Anti-Racist Y: Sustaining the Work for the Long Haul
Facilitated by Kevin Trapani, The Redwoods Group, with YMCA Panelists
In 2021, in the wake of the deaths of George Floyd, Breonna Taylor and too many others, we witnessed a ripple of anti-racist efforts. The Y Movement joined those efforts—including popular sessions at NAYDO on creating an anti-racist Y. Yet the work is very far from done. While the outrage that drove us in 2021 was justified, outrage alone cannot sustain the work for the long-term. We must find our way to acting out of love. In this session, we will learn from leaders in the Y space—and we will focus on how to sustain our efforts over the years and even decades necessary to achieve our end goals.
By the end of this session, participants will learn:
Personal self-care and motivational techniques that allow us to keep doing this work

Strategies, tactics and real world examples for transforming internal culture

Practical methods for building long-term anti-racist partnerships within the community
If you have a question you'd like the panel to address, please submit it in advance to community@redwoodsgroup.com.
>> Register

November 9, 2 pm Central: Camp Network
Sponsor: CampMinder
Revenue through Conservation Easements 101: Navigating the Benefits and Pitfalls
Presenters: Russ Link, CEO of YMCA Camp Olson, and Jessica Spears-Holmes, Executive Director of YMCA Camp High Rocks
Conservation Easements can provide a windfall of cash to an organization. Effective long-range planning and understanding the benefits and pitfalls are of critical importance. Learn more on this network call.
>> Register

November 18, 3 pm Central: Grant Writers Network
Sponsor: Grant Professionals Association
Everything You Wanted to Know but Were Afraid to Ask
>> Register

December 8, 2 pm Central: Smaller Ys Network (<$4m)
Sponsor: American City Bureau
Hot Topics Style Discussion with Two Breakout Groups
1. Comprehensive versus Individual campaigns: What has worked for your Y and/or does this make sense for smaller Y's?
2. Marketing and Fundraising in 2022: What are your plans?
>> Register

For more information on Networks, contact the NAYDO Office or Erica Halpern, NAYDO Networks Coordinator. To receive event invitations by email, add a specific network to your record. Simply reply to this email or use this link to MODIFY your record and add it yourself.
NAYDO CONGRATULATES NEWEST CFRE!
Becoming a Certified Fund Raising Executive (CFRE) is one of the highest levels of certification a fundraising professional can achieve. To be designated a CFRE, individuals must demonstrate their ability to raise funds, participate in a required amount of continuing education over the previous five years, and pass a 200-question exam.
We are proud to recognize Emily Figueiredo, Area Development Director with the YMCA of San Diego County, for her accomplishment of becoming a CFRE. Congratulations on a job well done!
NAYDO members receive a 20% discount on the price of CFRE certification. More information is available at www.cfre.org.
IN MEMORIAM
The first annual meeting of the NAYDO Council took place in St. Louis in March 1981. Ben Casey, then CEO of the YMCA of Greater New Orleans, was one of NAYDO's first Council Members. He served as NAYDO Chair from 1986-1987. Ben attended the NAYDO 2011 30th Anniversary Conference in Anaheim where all past Chairs were recognized as part of the celebration, something we wished we could have done for our 40th Anniversary in 2021. Ben was an amazing advocate for philanthropy throughout his distinguished decades-long YMCA career. Ben passed away unexpectedly on September 15, 2021. A memorial to honor his life will be planned for summer 2022. Share a memory or photo, or add your name to be informed about the service here.
ALUMNI & RETIREE TEAM
For those of you employed by the YMCA, if you leave the Y or retire, consider staying involved with NAYDO as part of the Alumni & Retiree Team (known as ART). There are opportunities to volunteer at the in-person NAYDO conference as well as year-round. Contact info@naydo.org for more information.

On behalf of our current Alumni & Retiree Team members, we would like to make you aware of another volunteer opportunity. The International Service Corp is an initiative sponsored by the YMCA Alumni, a fellowship of YMCA retirees in the United States. It is a service opportunity that provides short and mid-term volunteer placement for YMCA Alumni members in YMCAs in other countries. Read more: ISC one-pager and brochure.
FUNDRAISING HORROR STORIES
A Nightmare on Development Street
Since it's almost Halloween, let's share our real-life fundraising horror stories and the lessons learned. Here's one example: A donor gifted a gold tooth. The nonprofit had to go through the process of selling it, for very little benefit. Lesson learned: Have gift acceptance policies that can prevent an unwanted 'gift.'Send your horror story to Kristen Obaranec, or reply to this email, and we'll share some in the next newsletter!
TIPS & TACTICS
Development Planning
Imagine Canada works to strengthen Canadian charities and nonprofits so they can better serve individuals and communities. In 2018, Imagine Canada published a ground-breaking study, "30 Years of Giving in Canada - The Giving Behaviour of Canadians," a foundational tool for all fundraisers. In August 2021, they released a new study on nonprofits and recovering from COVID-19. A new HR toolkit for nonprofits is launching in November.

Donor Relations
Want to become a more effective fundraiser? Amy Eisenstein, ACFRE, offers this tip: Listen more; talk less. Stop trying to talk your donors into making a gift! Instead, prompt them to figure out WHY making a gift would be good for them. Check out Amy's powerful questions.

NAYDO Job Listing
See who's looking for Y development professionals. To post an opening, send your vacancy to Kristen Obaranec, CFRE.

Annual Reports
See examples of annual reports and additional resources, courtesy of Kindful.

YMCA Day of Giving
March 1, 2022, is YMCA Day of Giving. Learn more and join in.
Virtual Events
3 virtual fundraising tips to further your cause from NAYDO exhibitor Maestrosoft, an Arreva company.
---
If others at your Y did not receive this eblast, remind them to activate their Membership Benefits so they won't miss the next issue.

eDevelopments Disclaimer
Unless they are NAYDO members, sponsors or exhibitors, the websites, consultants, and other resources cited in these articles and links are not endorsed by NAYDO. The information is provided as food for thought only!
---
Have an accomplishment or inspirational Y story to share? Contact Kristen Obaranec.