NAYDO 365 Podcast
Sponsored by Donor By Design Group, LLC
---
NAYDO 365 is a series of conversations with Y leaders about fundraising, working with volunteers and leadership. They'll share their insights from their own experiences and coach you on how to meet the challenges of promoting the YMCA cause in your community.
EPISODE FOURTEEN
An interview with Shelly McTighe-Rippengale,
NAYDO Conference Chair and Chief Development Officer at the YMCA of San Diego County. Bruce and Shelly discuss the challenges and opportunities in managing a large, multi-project comprehensive campaign, developing young leaders and making the most of your NAYDO conference experience.
EPISODE THIRTEEN
An interview with David Schmidt
of Donor By Design and Wise Planning. Bruce and David discuss the critical connection between the strategic plan of your organization and your fundraising and building projects. How best to keep your long-term goals in line with your medium term projects? This is a great conversation to keep in mind before you begin a major campaign.
EPISODE TWELVE
An interview with Gary Laermer
of Pace University (formerly of YMCA of Greater New York). Bruce and Gary discuss ways to think of developing your list of prospects. How can you best utilize volunteers? What role can prospect screening play? How do you connect a first time donor to your cause? This conversation covers these questions and more.
EPISODE ELEVEN
An interview with Sara Luke and Lora Dow
of Donor By Design Group. They've crafted over 100 cases for support for YMCAs and other nonprofit organizations, including capital, annual, endowment, grants and comprehensive case statements. In this session they share the techniques they employ to help organizations find the words and images that inspire generosity.
EPISODE TEN
An interview with Howard Tellepsen,
businessman and YMCA volunteer in Houston, Texas. He has been involved in campaigns of various sizes and for different causes. In this session he shares the lessons learned and advice gleaned from years of volunteering and supporting organizations.
EPISODE NINE
An interview with Eric Ellsworth,
CEO of the YMCA of Greater Indianapolis. His Y has created more than six different successful healthcare collaborations with several different healthcare systems. In this session he shares the lessons learned from identifying a potential partner, setting up a successful partnership, and staying on a strong path together over time.
EPISODE EIGHT
An interview with Jen Kruel,
CEO at the YMCA of Dodge County. Having brought her YMCA back from the financial brink - and retiring more than $6 million in debt - Jen shares her experiences and advice for other YMCAs as they consider the impact of long-term debt to their bottom line... and to their communities.
EPISODE SEVEN
An interview with Abby Rogers,
Chief Advancement Officer at the YMCA of Greater Richmond. Together with the YMCA of Pierce & Kitsap Counties and the YMCA of Greater Houston, the YMCA of Greater Richmond has formed a cohort to investigate new ways of managing the annual campaign, emphasizing major gifts and changing roles within the organization. Listen in to hear what they've learned so far!
EPISODE SIX
An interview with Kent Meyer,
former CEO of YMCA of the Rockies. Two years ago, the Y of the Rockies embarked on an ambitious comprehensive campaign. Kent shares how they planned the campaign with their board, positioned the campaign to their donors and the campaign results. If your Y has been thinking about a comprehensive campaign, you will find the insights and strategies in this episode helpful.
EPISODE FIVE
An interview with Steve Rasmussen,
Executive Director of the AWC Family Foundation. This conversation is full of helpful insights from the foundation perspective that can help you be more effective in your local fundraising efforts. Steve discusses the best ways to steward a foundation grant, aligning your mission with the foundation's goals, trends in fundraising and philanthropy, and more!
EPISODE FOUR
An interview with Ron Metz,
Capital Campaign Chair from the Kokomo Family Y. Ron will share the challenges facing their campaign and how they overcame them. Take away lessons on leadership, working with municipalities, inspiring with a big vision and more.
EPISODE THREE
An interview with Jef Pollock, a political analyst and fundraiser.
Consider how political candidates raise a groundswell of support from small donations. What lessons will you take away for your own fundraising?
EPISODE TWO
An interview with artist and philanthropist Jeff Hanson and his family.
Jeff will be a 2016 conference keynote speaker. He and his parents share a glimpse into their story in this interview, showing that philanthropy can be inspired in the most unlikely ways.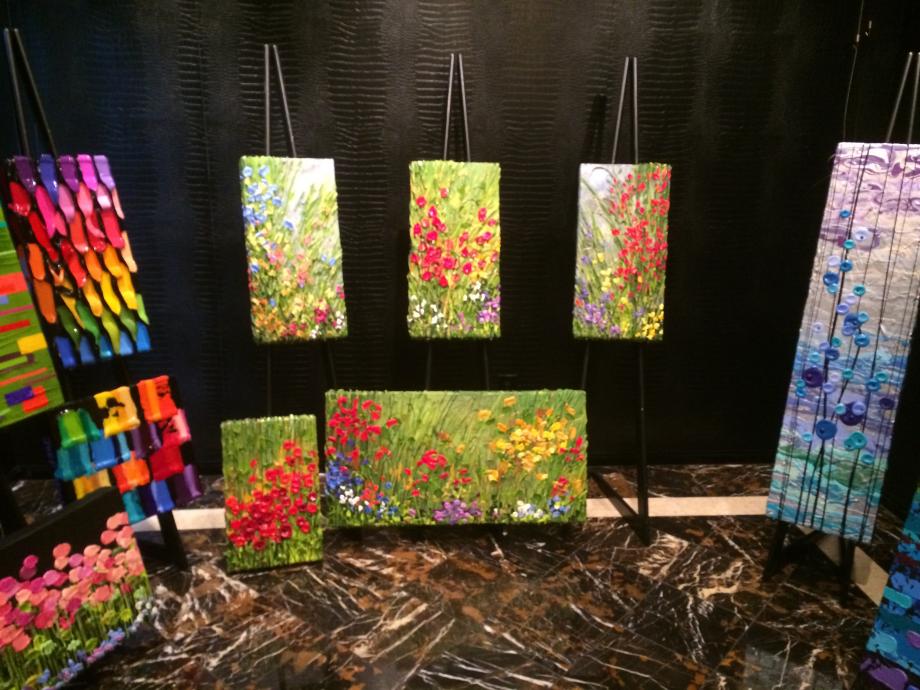 A sampling of Jeff's art.
EPISODE ONE
An interview with long-time YMCA leader Jack Lund.
Jack is retired from his post as CEO of the YMCA of Greater New York, the largest Y in North America. In this candid conversation, Jack reflects on what he learned, offers development advice for non-development staff and shares his thoughts on inspiring donors.