NAYDO eDEVELOPMENTS
October 2022 News & Updates from North American YMCA Development Organization
.........................................................................................................................
Message from the NAYDO Chair


SO MUCH TO OFFER YOUR STAFF AND VOLUNTEERS
Dear NAYDO Members,
The NAYDO Council met virtually in early September. One discussion item was unanimous: NAYDO has so much to offer our Ys, but we need to do more to get everyone plugged in. NAYDO membership is not just for those going to the conference.
From fundamentals to 10 networks, monthly webinars to the Young Professionals Class of 2023, volunteer opportunities to awards … it all is available to you year round as a NAYDO member.

NAYDO can help to:
• Teach the basics or a specific aspect of philanthropy
• Spark new ideas
• Connect volunteers and staff in similar positions
• Learn from YMCA experts
• Launch innovative philanthropy (2023 Conference April 11-14)

If you received this issue of eDevelopments, you activated your benefits for the NAYDO year (September 2022-August 2023). There may be staff and volunteers at your own Y who have not.

So others in your Y can be aware of the networks, webinars, conference, and more, forward this newsletter and invite them to sign up for NAYDO news using this link. A name and email are all that's needed to get started. You can register for the conference at the same time!

There is no limit to the number of staff and volunteers who can get engaged! Help us spread the word. Keep reading to find out what is coming up and how you can increase your role in inspiring and strengthening the philanthropic culture of your YMCA. With year-round activities, NAYDO membership is an amazing value and return on your investment.

In Y service,
Zane Korytko
NAYDO Chair
Chief Executive Officer | Directeur General
YMCA of Greater Moncton| YMCA du Grand Moncton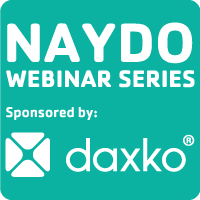 MONTHLY WEBINAR
Held at 1:30 pm Central for one hour
October 20
Not Your Grandma's Nonprofit Board: New Challenges, Practices, Solutions
Presenter: Christal Cherry, The Board Pro
In this webinar, you will be empowered to set a solid strategy to respond to the pressing obstacles in this new and complex nonprofit climate. We will discuss strategies for steady board engagement, solid fundraising, and creating a culture of inclusion, access and belonging.
Outcomes:
Learn best practices for strong and steady governance

Understand the need for a Business Continuity Plan

Clarify the Board Chair/Executive Director partnership

Create a strategy for recruitment with a diversity lens

Build a culture of inclusion, acceptance and belonging

Embrace technology as the means for communication and fundraising

Incorporate evaluation as part of their culture norms
>> Register now! https://naydo-org.zoom.us/webinar/register/WN_f7CUX5K2RsOE45XU18fPpA
LOOKING AHEAD - MONTHLY WEBINARS
November 17 - Take the Pain Out of Your Ask
Presenter: Jon Simons, DBD Group
In this webinar, you'll learn three strategies that work together to help you prepare, ask and steward a gift … without the pain.
>>Register

December 8 - YMCA Day of Giving: An Effective Strategy for Fundraising and Communications
Presenters:
David Frederick, Executive VP, Chief Strategy & Brand Officer, YMCA of San Diego County
Carrie Collins, Senior VP, Chief Advancement Officer, YMCA of Northwest North Carolina
Charlie Myer, YMCA Consultant/Retired YMCA Professional
Plan now for YMCA Day of Giving on March 7, 2023. We'll discuss how a YMCA Day of Giving can become a successful tool to engage members, donors and volunteers in the Annual Campaign and create greater visibility for your YMCA in the community.
>> Register
UPCOMING NAYDO NETWORK EVENTS
By:

Erica Halpern

, Networks Manager
You can register for and participate in as many networks as you want. Here is what's on the calendar.
Operations Network
Thursday, October 13, 1-2 pm Central Time
Best Practices in Philanthropy and How They Are the Same in Any Size YMCA (YNAN, Mid Major, Small/Midsize)
Speakers:
Alison Hansen, Chief Advancement Officer, YMCA of Greater Cincinnati
Morgan Montgomery, VP of Financial Development, YMCA of Cass and Clay Counties
Shannon Rauen, Director of Development, YMCA of the Pikes Peak Region
Best practices in philanthropy should be the driving force for fundraising efforts at every Y. Whether your Y has a robust team of professional fundraisers or fundraising is "another duty as assigned" to an operations leader, best practices should show up in every approach. Understanding basic best practices and assessing where you are will help you design a way forward that will elevate your approach to philanthropy. The presenters will share best practices and how they are implemented in different size YMCAs while also sharing key take away learnings from shared services and resources.
>> Register
Operations Network Sponsor: Reclique CORE

Camp Network
Wednesday, October 26, 1-2 pm Central Time
Camp Fundraising: Start with Alumni Intelligence
Speaker: Casey Klein, Consultant, Triangle2
Building your camp's alumni intelligence leads to increased annual giving, major gifts, planned giving and capital readiness. Many camps have lost contact with a majority of their alumni, while those lost alumni yearn to reconnect with childhood friends. This webinar will focus on how to find, engage, and connect with alumni from decades in the past. There will be a focus on four major topics:
• Methods of finding past campers and staff
• Organizing a fun volunteer driven search for alumni
• Providing ways for alumni to stay connected and involved
• Organizing an annual alumni engagement plan
Participants will leave this webinar with tools to help them reach out and find lost alumni, as well as create their own annual plan to stay connected with alumni.
>> Register
Camp Network Sponsor: CampDoc

Young Professionals Network (under 40 staff and board members)
Thursday, October 27, 2022, 3-4 pm Central Time
Best Practices for End-of-Year Giving
Moderator: Jarred Barnes, Chief Development Officer, Riverbrook Regional YMCA, YPP Alumni
Speakers:
Michael Hood, Board Member, YMCA of San Diego County
Shannon Williams, Managing Director, Armstrong McGuire Consulting, Raleigh, N.C.
Tiffany Thomas, Association Senior Director of Annual Giving and Corporate Sponsorships, YMCA of Greater Indianapolis
Join the Young Professionals Network for a panel discussion focused on year-end giving. Jarred Barnes, a recent Young Professionals Class graduate, will moderate the panel and will be joined by a YMCA board member, a senior director of annual giving, and a consultant who will share their thoughts and ideas when it comes to best practices for end-of-year giving.
>> Register
YPs Network Sponsor: Colaluca & Associates

Grants Network
Tuesday, November 1, 1-2 pm Central Time
Starting Advocacy from the Ground Up
Speakers:
Claire Miller, Director of Social Responsibility, YMCA of Greater Cincinnati
Candace Janidlo, Advancement Specialist, YMCA of Greater Cincinnati
Sydney Pepper, Director of Development - Grants, YMCA of Greater Cincinnati
This session will cover how to start an advocacy committee when you don't have a dedicated advocacy staff member. Participants will learn how to:
1. Assess need/desire to advocate at your Y
2. Build a decision matrix for advocacy
3. Build relationships with elected leaders
4. Get buy-in from board and senior leadership
5. Determine where to look for advocacy and why that matters
>> Register
Grants Network Sponsor: Grant Professionals Association
Smaller Y Network (<$4m)
Thursday, November 10, 1:30-2:30 pm Central Time
Lead with Knowledge. What Data Can Tell You About Your Y.
Speaker: Mario F. Trescone, Owner and Founder, Greater Than > Analytics Business Intelligence Specialists
Join us for this educational session on what Y employees should know about their YMCAs and how data can help. This session is for Y leadership at all levels.
>> Register
Smaller Y Network Sponsor: American City Bureau

Program and Membership Network
Wednesday, November 30, 1-2 pm Central
Details will be posted on the calendar at naydo.org
Program and Membership Network Sponsor: Startup Smartup

Diversity, Equity and Inclusion Network
Friday, December 2, 11:30 am-12:30 pm Central Time
Details will be posted on the calendar at naydo.org
DEI Network Sponsor: The Redwoods Group

Volunteers In Philanthropy Network -VIPs (Board Members and Fundraising Volunteers)
Wednesday, December 7, 1-2 pm Central Time
What Gets in the Way? Conflicts That Impede Board Fundraising
Speakers: Kellie Wardman, Senior Consultant, and Jason Fry, Senior Vice President, DBD Group
YMCA boards understand that part of their role is to ensure their organization is adequately resourced. This means raising funds to support the mission. Many board members struggle with this responsibility. What are the behaviors and competing commitments that get in the way? Participants will learn how to:
1. Uncover the hidden assumptions your board and organization hold about fund development
2. Work with proven tools to identify people's worries and fears about this work that block progress
3. Learn strategies to engage board members in thoughtful dialogues that create real change
4. Support individual volunteers and the board as a whole to work together to advance your mission.
>> Register https://naydo-org.zoom.us/webinar/register/WN_m_msAoRHS_ONFcptukLuGw
VIP Network Sponsor: American City Bureau https://acb-inc.com/

Staff New to Y Development Network
Thursday, December 8, 11 am-12 pm Central Time
Details will be posted on the calendar at naydo.org
Sponsor: gro> https://www.gro-dev.com/

Marketing and Communications Network
Thursday, December 8, 2022, 1-2:30 pm Central Time
At 1 pm, the NAYDO MarCom Network will host a 30-minute meet-and-greet. Get to know your Network Leaders, hear from Network Sponsor Radar Promotions and meet other MarCom Network Members. The meet-and-greet leads into the monthly webinar YMCA Day of Giving: An Effective Strategy for Fundraising and Communications, 1:30-2:30 pm Central.
>> Register One registration for network and webinar https://naydo-org.zoom.us/meeting/register/tZcsduytpjsiE9FGofyxSTHjI4Vb5gQ_evvK
MarCom Network Sponsor: Radar Promotions https://www.radarpromo.com/
NAYDO 2023 CONFERENCE BROCHURE
October 28 Members Only Registration Deadline
The lowest NAYDO Member rates are good through October 28 which is only weeks away. Make the most of your membership and register NOW! A $100 deposit is all you need to reserve the lower rate, even if you don't know who will be attending. You can contact the NAYDO Office about Special Directions for registering Spaces without Names. Just be sure to specify how many spaces you need.

Download the Conference Brochure. On page 2, you'll find the Quick Links for all your conference needs - registration, financial assistance, award entry forms, and Young Professionals Class Application Form.
Hotel Update
The latest Hotel information can always be found here. A third hotel has been added and rooms are available at a rate $10 less than the Marriott Marquis or the Westin Downtown.
NAYDO Room Rate (single or double): $229 plus tax ($10 less per night than other 2 hotel options.
Reserve rooms now
.
Cambria Hotel Downtown Houston Convention Center (located 4 short blocks from Marriott Marquis at 1314 Texas Street, Houston, TX 77002
AWARDS AND YOUNG PROFESSIONALS CLASS OF 2023
December 6 Deadline for Applications
Excellence in Fundraising: NAYDO Eagle Awards
NAYDO Eagle Awards are presented to YMCA Associations that show a commitment to fundraising's best practices and have demonstrated success in annual, capital, and endowment efforts. Previous Eagle winners judge nominees among similar size Ys. Associations of all sizes are encouraged to apply. NAYDO Association Member YMCAs that have never won or who won the Eagle Award prior to 2019 are eligible to apply.
Nomination form and criteria Questions? Contact Eagle Awards Chair Shelly McTighe-Rippengale smcrip@ymcasd.org
https://conference.naydo.org/awards/eagle-awards.html
Communications Awards
The 2023 categories are:
Strategic Communications Excellence (four different categories/awards)
NAYDO Strategic Communications Excellence Awards recognize exemplary YMCAs that have developed a multi-faceted communications campaign designed to inform, educate or persuade specific audiences about the Y's cause, impact or an initiative. Awards will be given to small, mid-size and large Ys in these categories of communications excellence:
- Best Overall Campaign Excellence Award
- Communications Champion for Inclusion Award
- Philanthropic Communications Champion Award
- Small Budget Star Award
Cause Communicator of the Year (one award)
This award recognizes efforts by a YMCA leader to inform, educate and engage his or her team, volunteers, donors and/or community. This person clearly articulates a vision that inspires and motivates others to positive action.
Criteria and application forms https://conference.naydo.org/awards/communications-awards/ Questions? Contact Communications Awards Chair Christina Harley, CFRE.
Young Professionals Class of 2023
The Young Professionals Program offers NAYDO Members who are YMCA staff (part or full time) between age 21-31 (by August 31, 2023) a unique and exceptional conference experience focused on networking, professional development and mentoring. NAYDO Young Professionals will set personal goals and outcomes for their time at the conference, connect with peers and mentors from around the world, increase capacity to deliver on philanthropic goals at their Y and deepen their understanding of and commitment to a culture of philanthropy.
Supervisors of young professionals: This is a unique opportunity to invest in young staff members to advance the culture of philanthropy through a new generation of professionals.

Download then print the Young Professsionals Class of 2023 application https://conference.naydo.org/_img/li_693252.docx Class Coordinator: Courtney Cordero (YPP Alumni), YMCA of San Diego County; Alumni Coordinator: Abby Waeiss, YPP Alumni, YMCA of the North
CONGRATULATIONS TO NAYDO'S NEWEST CFREs
Cindy Rosa is the Senior Director of Development & Engagement for the YMCA of the Okobojis in Spirit Lake, Iowa. Cindy has spent her career working for the Y in a variety of capacities in Minnesota, Ohio and Iowa. Cindy suports all of the wonderful happenings through the YMCA of the Okobojis!

Jessica Brown is a Board Member with the Hopewell Valley YMCA in New Jersey. "Pursuing my CFRE certification has provided me with the framework and structure I craved to keep me on a professional learning path, with access to hundreds of courses, webinars and conferences," she says. "Through this journey, I was able to re-enforce and build on my fundraising experience while developing new skills and connecting with peers. I am able to bring this knowledge and network into my role as a fundraiser and volunteer with the YMCA to help advance our mission and better support staff and fellow trustees."
RESOURCES FOR CAPITAL/COMPREHENSIVE CAMPAIGNS
Last month, Amy Eisenstein joined us for a webinar on How to Plan an Effective & Efficient Capital/Comprehensive Campaign Using New Tools & Technology. If you missed it, you can grab the slides and recording from member resources on the NAYDO website (reply to this email for the password). Amy also offered a free Step-by-Step Guide to help you plan your campaign. Download here. https://capitalcampaigntoolkit.com/checklist/
eDevelopments Disclaimer Unless they are NAYDO members, sponsors or exhibitors, the websites, consultants, and other resources cited in these articles and links are not endorsed by NAYDO. The information is provided as food for thought only!