NAYDO eDEVELOPMENTS
News & Updates from North American YMCA Development Organization
December 2021
.........................................................................................................................
Message from the NAYDO Chair


CELEBRATE THE SEASON
Dear Friends,

During this holiday season, we take time to appreciate the gifts in our lives including family, friends, and treasured traditions. I hope you also will enjoy moments of peace and wonder as you celebrate the season.
On behalf of NAYDO, I extend my gratitude for your gifts – caring, compassion, time, and talent. Thank you for sharing your experience, ideas, and successes with NAYDO and for making our mission possible throughout 2021's extraordinary circumstances.
Thank you for being part of NAYDO―which includes a 40-year tradition of inspiration and impact―as we make a positive difference in the lives of others. In the holiday spirit of hope, health, and healing, please volunteer, donate to a cause close to your heart, or reach out to a distant family member or neighbor who is alone. Your action, no matter how small it may seem, can make a big difference.
May the spirit of this joyous season find a renewed expression through our actions during the coming year – in our homes, in our Ys, and in our community. From the NAYDO Council and staff, we wish you every happiness this holiday season and in the new year.

In Y service,
Zane Korytko
NAYDO Council Chair
Chief Executive Officer | Directeur General
YMCA of Greater Moncton| YMCA du Grand Moncton
P.S. I hope you are planning to join me in Tampa for the in-person NAYDO Conference on YMCA Philanthropy April 6-9! Today's the last day to register with a $100 deposit and pay the balance by the January 31 conference registration deadline. After today, all registrations are paid in full only. Did you hear our two conference hotels are sold out, which means over 1,100 people are coming? See details on overflow hotel.
TODAY IS THE DAY! - December 6 CONFERENCE DEADLINES

If you supervise Young Professionals, consider recognizing them by nominating them for the Class of 2022 and rewarding them with a NAYDO Conference experience! The Young Professionals Program, sponsored by Colaluca & Associates, offers NAYDO Members and Virtual Subscribers who are YMCA staff (part time or full time) between the ages of 21 and 31 (by August 31, 2022) an exceptional conference experience focused on networking, professional development and mentoring. Through this program, NAYDO Young Professionals will set personal goals and outcomes for their time at the conference, connect with peers and mentors from around the world, increase capacity to deliver on philanthropic goals at their Y and deepen their understanding of and commitment to a culture of philanthrophy.
Applicants must be registered for the conference and submit the Application Form, signed by their supervisor, by December 6. If your Y has circumstances making it impossible to meet the deadline, contact Mary Zoller in the NAYDO Office for your options at info@naydo.org.
More on the Young Professionals Program.

MarCom Professionals: Did you enter your work in the NAYDO Communications Awards Contest? Today is the deadline! Have pieces to submit but deadline snuck up on you so may not get the form done today? It counts as on time if you email christina.harley@swo.ymca.ca and tell her your entry form is coming tomorrow. Remember, the 2022 categories are:
Strategic Communications Excellence (four categories)
NAYDO Strategic Communications Excellence Awards recognize exemplary YMCAs that have developed a multi-faceted communications campaign designed to inform, educate or persuade specific audiences about the Y's cause, impact or an initiative. Awards will be given to small, mid-size and large Ys in the following categories of communications excellence:
- Best Overall Campaign Excellence Award recognizes one small, one mid-size, and one large Y for developing the best overall strategic campaign in its class. Entry form
- Communications Champion for Inclusion Award recognizes a Y that has demonstrated its commitment to welcoming and serving all people within a philanthropic campaign. It should be clear that elevating the commitment to diversity, equity and inclusion was a focal point of these communications pieces. Entry form
- Philanthropic Communications Champion Award recognizes YMCAs for a clear and creative strategic approach to the development of communications fundraising campaign and tools. Entries should include a compilation of 3-5 pieces that best demonstrate your philanthropic strategy in action which may include annual report, impact reports, annual support campaign materials, capital campaign materials, endowment or planned giving, general donor cultivation materials. Entry form
- Small Budget Star Award recognizes YMCAs that have developed a multi-faceted communications campaign designed to inform, educate or persuade specific audiences about the Y's cause, impact or an initiative while spending $5,000 or less on their campaign. Entry form

Cause Communicator of the Year (one award)
This award recognizes efforts by a YMCA leader to inform, educate and engage his or her team, volunteers, donors and/or community. This person clearly articulates a vision that inspires and motivates others to positive action. Excellent communication requires real strategy. Your entry should demonstrate the strategic effort related to internal and/or external communication by a leader at your Y. Entry form
Criteria and more info about the Communications Contest

The Eagle Award for Excellence in Fundraising is presented annually to YMCA Associations who demonstrate outstanding achievement in YMCA financial development and are integrating philanthropy into all aspects of YMCA work. Because there are budget size categories, more than one Y can win the Eagle Award each year. Nomination form and more info

The Conference Financial Assistance application deadline is Dec. 6. This is a two-step process:
Step 1: Complete the Application Form (1 form covers 3 people, the recommended max number per Y due to reduced funds this year). Contact info@naydo.org if you have more than 3 applicants. If you don't already have a hotel reservation, you will need to book a room at the Westin (link below) and use the Westin confirmation on your application (only if you are applying for hotel assistance).
Step 2: Register for the conference. EACH PERSON will be listed as the Registration Type: Financial Assistance Applicant and pay the $50. NOTE: You will not be able to do this if the applicant has not activated their NAYDO membership benefits for the current year. Contact Database Specialist Kathy Meehan for assistance, kathymeehan@cox.net.
If you are unclear on the overall process or do not yet know who you are sending, contact Mary Zoller, NAYDO Operations and Conference Director,
504 858 3379 or info@naydo.org.

NOTE: Funds will be allocated to those whose applications are submitted by the December 6 deadline. However, some do not accept their allocation, making additional funds available. While you may still apply for assistance after December 6, there is no guarantee of funds becoming available.

FREE SCHOLARSHIP FOR NAYDO 2022 CONFERENCE REGISTRATION

Enter to win a FREE REGISTRATION ($650 value) to the NAYDO 2022 Conference on YMCA Philanthropy!
Don't miss this opportunity to join your colleagues for an amazing conference. One lucky winner will be drawn at random on January 20, 2022. Check the NAYDO website homepage for the winner, and it will be announced in a January eblast. Financial assistance applicants are welcome to enter.

This scholarship is sponsored by the Capital Campaign Toolkit. Special thanks to Amy Eisenstein, ACFRE, CEO and Co-Founder of the Capital Campaign Toolkit. Amy is a highly-rated NAYDO webinar and conference presenter and will be part of NAYDO 2022 in Tampa with 7 Steps to Planning a Successful Capital (or Comprehenisive) Campaign.
CONFERENCE HOTEL UPDATE
Both Marriotts Are Sold Out. The Westin Tampa Waterside, located right on the water and just a short walk away, will serve as the overflow hotel for the NAYDO Conference. Use this hotel link to make reservations at the Westin. Only King rooms are available at a rate of $229 plus 14.5% tax. If you cannot get the nights you need, notify info@naydo.org. Westin will expand the room block once it is filled.
If you prefer to be added to the Marriott wait list, you must supply the following information to Mary Zoller at info@naydo.org:
Contact Person Name
Contact Person Email
Contact Person Association Name
Total Number of Rooms:
For Each Room:
1. Name
2. Email for Confirmation
3. Arrival and Departure Dates
4 King Bed; 2 Queens; Doesn't Matter
5. JW Marriott; Marriott Water Street; Doesn't Matter
As the contact person, you will have 24 hours to respond with a credit card and expiration date when a room(s) becomes available.
Pandemic Precautions for the Conference
NAYDO is closely monitoring the status of the pandemic, staying abreast of the latest trends in large group events in terms of safety practices and attendee guidelines, as well as consulting with our medical advisor. NAYDO is committed to adjusting activities in whatever way is necessary to ensure a safe environment for the conditions that exist in April 2022.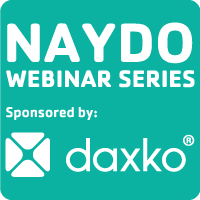 Webinar this week

December 9, 1:30 pm Central / 2:30 pm Eastern
Setting Your Course in an Era of Disruption and Uncertainty
Presenter: Damon Colaluca, Colaluca & Associates
Leaders are experiencing a rapidly changing and volatile environment that makes delivering your mission increasingly tricky. Shifting funding priorities, new regulations, political turmoil, volunteer leadership scarcity, rising community needs, increased competition, you name it — the waves of disruption crash against your YMCA faster and faster. As quickly as your team manages one crisis, another one appears on the horizon, and your proven tools and tactics seem to be less effective every day. So, it's no wonder you and your team are exhausted. The pace of disruption is fundamentally changing the way we work, the way we fund our impact, and the way we see the future. This webinar will give you the mindset, skillset, and toolset to confidently lead your organization in this new reality, no matter what disruptions come your way. You will:
• Discover the mindsets needed to succeed in this new era
• Assess your Y's capacity to anticipate, design for, and implement change
• Apply innovative tools to give you clarity and spark action
>> Register

Upcoming
January 20, 2022, 1:30 Central
The Lucrative Art of Thanking Donors
Presenter: Rachel Muir, Makeover My Fundraising
Giving to charity is the neurological equivalent of winning the lottery! So why do 90% of donors not make a second gift? What can you do to make them stay? Discover the art of saying thanks and reporting back to donors in a way that keeps them loyal for life (and giving more!) Get the winning recipe plus time-saving templates for thanking and reporting back to donors. Discover digital tools to help you delight, stand out and be completely unforgettable (not to mention uber thoughtful) thanking donors in a digital world.
5 takeways:
- Thank you and reporting back templates that make the donor the hero
- Formula for a winning thank you
- Before and after thank you makeovers
- Done-for-you sample stewardship plans
- Digital tools that delight donors and save you time & money
>>Register
Watch for details in 2022
February 17, 2022, 1:30 pm Central
Busting Fundraising Myths with Adam Clevenger CFRE, Partner, Loring, Sternberg & Associates and YMCA Alumni
March 17, 2022, 1:30 pm Central
Forever ALL Society – Multi-Year Annual and Endowed Giving with John Nitardy, Senior VP for Advancement, YMCA of Metropolitan Dallas
NAYDO NETWORK EVENTS
Participate in NAYDO Networks for additional insights, ideas, and discussion. You can join in any or all of the 10 Networks. Here are the next events:
December 8, 2 pm Central: Smaller Ys Network (<$4m)
Sponsor: American City Bureau
Hot Topics Style Discussion
1. Comprehensive versus Individual campaigns: What has worked for your Y and/or does this make sense for smaller Y's?
2. Marketing and Fundraising in 2022: What are your plans?
>> Register

January 13, 12 pm Central: Marketing & Communications Network
Sponsor: Radar Promotions
How to Amplify Your Mission with Christina Sanders of Lucidpress
>> Register
January 18, 1 pm Central: Board and Volunteer Network
Sponsor: American City Bureau
Let's Break It Down: Engaging Your Board in Philanthropy with Cindy Phallen, Create Possibility
>> Register
January 19, 2 pm Central: International/Diversity, Equity, Inclusion Network
Sponsor: The Redwoods Group
The Anti-Racist Y: Sustaining the Work for the Long Haul
Facilitated by Kevin Trapani, The Redwoods Group, with YMCA Panelists
In 2021, in the wake of the deaths of George Floyd, Breonna Taylor and too many others, we witnessed a ripple of anti-racist efforts. The Y Movement joined those efforts—including popular sessions at NAYDO on creating an anti-racist Y. Yet the work is very far from done. While the outrage that drove us in 2021 was justified, outrage alone cannot sustain the work for the long-term. We must find our way to acting out of love. In this session, we will learn from leaders in the Y space—and we will focus on how to sustain our efforts over the years and even decades necessary to achieve our end goals.
By the end of this session, participants will learn:
Personal self-care and motivational techniques that allow us to keep doing this work

Strategies, tactics and real world examples for transforming internal culture

Practical methods for building long-term anti-racist partnerships within the community
If you have a question you'd like the panel to address, please submit it in advance to community@redwoodsgroup.com.
>> Register

January 27, 3 pm Central: Young Professionals Network (Under Age 40 Staff & Board)
Sponsor: Colaluca & Associates
Marketing and Fundraising: A Comprehensive Approach to Raising Crucial Dollars with Courtney Cordero, YMCA of San Diego County
>> Register

For more information on Networks, contact the NAYDO Office or Erica Halpern, NAYDO Networks Coordinator. To receive event invitations by email, add a specific network to your record. Simply reply to this email or use this link to MODIFY your record and add it yourself.
JUST RELEASED - "ENGAGED BOARDS WILL FUNDRAISE! How good governance inspires them" by Brian Saber
Fundraising is the hardest work you ask your board members to do. If they're not fully committed and engaged and they don't feel they have a strong stake in your organization, they aren't going to fundraise for it. In this groundbreaking book, Brian Saber and Michael Davidson bring their collective expertise and 20 years of working together on governance and fundraising issues to help you understand how good governance is a means to inspire your board to fundraise. If you participated in the November webinar with Brian and Michael, you know there is a lot of good, practical advice.
NAYDO CONGRATULATES NEWEST CFRE!
Becoming a Certified Fund Raising Executive (CFRE) is one of the highest levels of certification a fundraising professional can achieve. Individuals must demonstrate their ability to raise funds, participate in a required amount of continuing education over the previous five years, and pass a 200-question exam.
We are proud to recognize Angie Peters, Vice President of Philanthropy with the Gateway Region YMCA, for her accomplishment of becoming a CFRE. Congratulations on a job well done!
NAYDO MEMBERS SAVE 20% OFF CFRE CERTIFICATION
Give yourself a gift for 2022, and become a Certified Fund Raising Executive (CFRE) to demonstrate your mastery of ethical, best-practice fundraising to your Y, board, donors, and beyond. You're worth investing in! The CFRE is the only globally-recognized, accredited certification for fundraising professionals. No matter what type of fundraising you do, it signals you are a professional committed to the highest standards.
It's completely free to start your application. You only pay when you're ready to submit it. NAYDO members ALWAYS receive a 20% discount off CFRE initial certification and recertification. Begin your CFRE application. Make a career move you'll thank yourself for. More on CFRE.
TIPS & TACTICS
MarComm
How people read a direct mail letter. Chris Keating
At your Y, is there a disconnect between internal communications and employees? Steps to avoid ineffective communication. PRNews

Donor Relations
Don't put it off: pick up the phone and call a donor today. Lori Jacobwith, Ignited Fundraising

Annual Campaign
Making an ask – keep it simple! 10 reasons why asking for donations is easy. Joan Garry
YMCA Day of Giving
March 1, 2022, is YMCA Day of Giving. Learn more and join in.
---
If others at your Y did not receive this eblast, remind them to activate their Membership Benefits so they won't miss the next issue.

eDevelopments Disclaimer
Unless they are NAYDO members, sponsors or exhibitors, the websites, consultants, and other resources cited in these articles and links are not endorsed by NAYDO. The information is provided as food for thought only!
---
Have an accomplishment or inspirational Y story to share? Contact Kristen Obaranec.