NAYDO eDEVELOPMENTS
News & updates from North American YMCA Development Organization
April 2021
.........................................................................................................................
LOOKING FORWARD TO 2022 & BEYOND




Message from the NAYDO Chair
Dear NAYDO Members,

The virtual 2021 NAYDO Conference is in our rearview mirror. I'll continue to benefit from what I learned during those three days, and I hope you will, too. John O'Leary truly inspired me; I was engaged in fantastic workshops, Hot Topics, and networking. Plus, NAYDO's really Got Talent … the performances proved it!
Thanks to all who participated as an attendee, sponsor, exhibitor, presenter, awardee, Host Y staff, facilitator, convener, or another role. An onsite team of 25 NAYDO workers, including the Production Audio Video, Inc. team, worked around the clock to ensure the conference ran smoothly. Kudos to NAYDO Operations and Conference Director Mary Zoller and the small but mighty NAYDO staff team for their dedication.
Now, it's time to look forward. I'm honored and humbled to begin my term as NAYDO Chair. Over my career at the YMCA, I was always impressed by the incredible work of the NAYDO team. I've learned much from Shelly McTighe-Rippengale, immediate past chair, in preparing for this responsibility. The NAYDO Council is an amazing group of peers with incredible experience, expertise, and enthusiasm. Council members continuously develop new ideas and programs.
I encourage you to get more involved in NAYDO. You will grow professionally and personally, and your Y and community will benefit. Join the NAYDO 2022 conference committee, engage in one of 10 networks, or contact us to help find a fit for your interests and available time.
NAYDO inspires and strengthens the philanthropic culture of the YMCA. Please reach out to me with your ideas, suggestions, and feedback. I look forward to hearing from you.
In YMCA service,
Zane Korytko
NAYDO Council Chair
Chief Executive Officer | Directeur General
YMCA of Greater Moncton| YMCA du Grand Moncton
zane.korytko@ymcamoncton.ca 506-853-8572
NAYDO Academy Philanthropy School Fundamental
Tuesday, May 11, 12 pm Central/1 pm Eastern
Comprehensive/Capital Campaign Fundamentals and Beyond
Presenter: Amy Eisenstein, ACFRE
If there is a campaign in your future, this session is for you! A comprehensive/capital campaign is likely the largest amount your YMCA has ever tried to raise … often even 10 times more than you currently raise. Don't leave the success of your campaign up to chance. Join fundraising expert Amy Eisenstein to learn how to prepare for a campaign and create a campaign plan to ensure your campaign is a success. You will leave the session with a solid understanding of a campaign timeline, where the biggest gifts will come from, and a better way to conduct a feasibility study.
>>Register

Amy Eisenstein, ACFRE is a long-time NAYDO presenter. She is CEO and Co-Founder of the Capital Campaign Toolkit. Her published books include "Major Gift Fundraising for Small Shops," "Raising More with Less," and "50 A$ks in 50 Weeks." Amy became an AFP certified Master Trainer in 2009. She became a Certified Fundraising Executive (CFRE) in 2004 and received the ACFRE in 2013. For more information and free resources visit amyeisenstein.com or CapitalCampaignToolkit.com.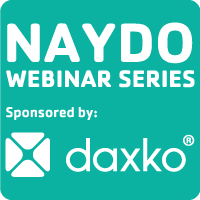 Upcoming NAYDO Webinars

Thursday, May 20, 2021, 1:30-2:30 p.m. Central
Major Gifts: Your Pathway to a Successful and Meaningful Annual Campaign
Presenters: Jerold Panas, Linzy & Partners
Doug Dillion, CEO
Christian Rieseberg, Senior Consultant
Want to move your Annual Campaign to a new level of impact and success? Join leaders from Jerold Panas, Linzy & Partners to learn how. Major gifts efforts focus on building relationships that move through the donor cycle. First is identifying a manageable number of prospective Major Gifts donors. Then, you'll concentrate on each step of the fundraising cycle.
As a result of this workshop, you will:
- Identify major gifts prospects and begin the donor cycle with each.
- Learn how board members and volunteers can support the process.
- Share the right story and case for support.
- Be better equipped to meet your annual campaign goal.

Thursday, June 17, 2021, 1:30 p.m. Central / 2:30 p.m. Eastern
2021 Giving USA: Trends and what it means for your Y
Presenters: Ter Molen Watkins & Brandt
Don Souhrada, President & CEO
Amy Funk, Senior Vice President
Meagan Downey, Senior Vice President
Join us for a discussion of the 2021 Giving USA data and about how you and your YMCA can use this and other data sources to be strategic, creative, and confident as you chart the right course in a rapidly-changing world.

Thursday, July 15, 2021, time TBD
Penelope Burk/Cygnus Research 2021 YMCA Donor Survey
Presenter: Penelope Burk and Cygnus Research
NAYDO helped to sponsor the first YMCA donor survey in 2015, and we are excited to be part of the 2021 survey. This national research study investigated how American donors are managing their philanthropy today. Learn how YMCA donors expect to give in the coming year and get reliable evidence from Y donors to inform your decisions.
>>Register for any or all
NAYDO Network Events
Here's what is coming up in May and June. To receive event invitations by email, add a specific network to your record. Simply reply to this email or use this link to MODIFY your record and add it yourself.
May 18, 10 am Pacific/12 pm Central/1 pm Eastern
Volunteer in Philanthropy (VIP) - A Conversation about Fundraising Excellence with the 2021 Eagle Award recipients: Gateway Region YMCA and the YMCA of Western North Carolina
Especially for Board Members and Fundraising Volunteers/Best suited for Small & Mid-Sized YMCAs and Association branches.
>>Register
Network Sponsor: Swagdog

May 18, 1 pm Pacific/3 pm Central/4 pm Eastern
Grant Writers - Defining Outcomes for Grants
>>Register
Network Sponsor: Grant Professionals Association

May 25, 11 am Pacific/1 pm Central/2 pm Eastern
Operations Staff
>>Register
Network Sponsor: Gro

May 27, 9:30 am Pacific/11:30 am Central/12:30 pm Eastern
Camp Professionals - Discussion topics: 1. How do you convert camper parents into donors? 2. How do you get your alumni to start giving to camp?
>>Register
Sponsor: Campminder

June 1, 10 am Pacific/12 pm Central/1 pm Eastern
Staff New to Y Development
>>Register
Sponsor: Power Systems

June 9, 12 pm Pacific/2 pm Central/3 pm Eastern
Smaller YMCAs (<$4m)
>>Register
Sponsor: American City Bureau, Inc.

June 23, 1 pm Pacific/3 pm Central/4 pm Eastern
Young Professionals (under age 40)
>> Register
Sponsor: Power Systems

June 24, 10 am Pacific/12 pm Central/1 pm Eastern
Marketing & Communications
>>Register
Network Sponsor: LucidPress

June 24, 12 pm Pacific/2 pm Central/3 pm Eastern
Program and Membership - Developing frontline staff to share the Y's impact
>>Register
Network Sponsor: PowerUp Fitness

For more information on Networks, contact the NAYDO Office, info@naydo.org, or Erica Halpern, NAYDO Networks Coordinator.
NAYDO Conference Attendees: What's Next?
Attendees have access to the Attendee Hub while workshop recordings are being loaded onto the NAYDO website.
• Also posted on the website:
- Eagle Award recipient videos from Gateway Region YMCA and YMCA of Western North Carolina
- NAYDO Impact Award honoree
- Communications Contest winners
- Communications Showcase
• Coming soon for NAYDO members unable to participate in the conference: The conference workshop recordings will be posted on the website by June 1. You can use them as lunch and learn presentations, staff and board training, and more.
Also by June 1:
- NEW! Key Points from Hot Topics Sessions. Each topic had a volunteer who recorded key points from the discussions.
- Gateway Region YMCA Impact Tour videos

• The Impact Measurement Survey is open until May 14. Complete one per YMCA association. If you submit by the deadline, your Y will be entered into a drawing for 2 free 2022 Conference registrations. For Ys that received financial assistance, completing this survey is an agreed-upon requirement.

• The 2022 Call for Presentations is open. Consider presenting a workshop: share what you are doing successfully; how you are engaging with volunteers and program staff; what you are doing differently with campaigns, etc. Priority consideration is given to those submitted by June 3, 2021.

• Enjoy this follow-up video message from Keynote Speaker Johnn O'Leary. John invites everyone to receive a Saturday morning inspiration by text. Simply send a text to 314-202-5373 and type NAYDO in your text. John is offering $5 off his ON FIRE/IN AWE book bundle ($54 retail value/$40 typical price/special NAYDO rate $35), plus he'll sign your copies with a special NAYDO message. Order here and enter coupon code NAYDO to apply the $5 discount. If you inquired about John speaking at a local Y event, please complete the Speaker Request Form or contact Heather Arora, chief relationship officer.
NAYDO Sponsors and Exhibitors
Thank you, 2021 Sponsors and Exhibitors!
All NAYDO members, not just those attending the 2021 Conference, can learn from sponsors and exhibitors. They are included here with links to their websites. If you're in the market for products or services, check out NAYDO sponsors and exhibitors first!
We would like to highlight sponsors and exhibitors new to NAYDO this year
Arreva® is a trusted advisor and market leader of digital fundraising, donor relationship management, and auction software that has been serving the nonprofit industry for more than three decades. Arreva's, ExceedFurther® All-in-One, Digital Fundraising and Donor Relationship Management software is helping nonprofits worldwide further their mission, transform fundraising, and cultivate relationships with donors and constituents. Our MaestroAuction Online TM and MaestroAuctionTM virtual, live, and silent auction software, Text2Bid® virtual and mobile bidding software, and Text2Fund® text-based donation software are helping nonprofits raise billions of dollars and further their cause through thousands of virtual fundraising events, charity auctions and galas.
American Fundraising Foundation (AmFund)
Echelon Fitness Multimedia LLC
IntelliData is a technology consulting company that specializes in business intelligence and analytics solutions for associations and nonprofit organizations. With its suite of analytics tools, IntelliData can help your organization analyze your donor behavior which can help your organization increase donor retention, create more meaningful RFM and LTV analysis, and meet or exceed your fundraising goal. Data. Intelligently. Denny Lengkong http://www.intellidata.tech
PowerUp Fitness - PowerUp Your School is an evidence-based physical activity program, aligned with academic standards, for grades K-8 that combines movement, learning, and fun. Each activity session is aligned with three or more educational standards, including Math and English Language Arts. All bundles include online instructor training, hardcopy instructor manuals, easy-to-use lesson plans, and ongoing support materials. No equipment needed (reducing germ transmission) and all exercises can be done with safe physical distancing.

Power Systems
TEC Services, a division of The Matworks Company, is a national janitorial provider focused on how to Quiet Your Day. We deliver Quiet through a committed management team that works 100% for your YMCAs and exclusive data gathering technology & KPI reporting for transparency. And, when you hire TEC Services, you'll be giving back to the community through our Future Leaders program, too. TEC Services is currently providing janitorial service to more than 20 Chicago metro locations. Get a FREE stainless hot-cold tumbler and $10k (minimum) rebate when you hire us. Just think what you might do with your rebate! Contact Jay Hutchison.
Fundraising consulting firm Ter Molen Watkins & Brandt has deep experience in the unique model of YMCA fundraising, with multiple staff members who have either directly led YMCA campaigns or served as counsel. Our consultants average over 20 years of fundraising experience, including successful capital campaigns completed or in process exceeding $2 billion. With 15 full-time staff and a deep bench of part-time/adjunct staff, TW&B has the capacity to provide substantial resources as needed for organizations of all sizes.

2021 Premier Sponsors
See full list of Sponsors and Exhibitors
Tips and Tactics
The Value of NAYDO
Susan Walters-Klenke, fund development director at the YMCA of Metropolitan Detroit, shares why she loves NAYDO!

Board Engagement
How to get your board members to identify high level prospects. Who is in the circle of influence? Gail Perry shares a great strategy here!
https://www.gailperry.com/board-members-help-identify-major-gift-prospects/
Volunteer Boom Expected
Despite a record-low year in volunteering in 2020, the U.S. is primed for a volunteer renaissance in post-pandemic 2021, according to The NonProfit Times. "In the devastating wake of the coronavirus there will once again be a pent-up demand for impact and what will be a nationalizing sentiment of rebuilding," authors Rachel Clemens and George Weiner wrote.
Development
You've likely got a problem with your mailing list. 40% of your mailing's success depends upon your list. Another 40% is the offer, while 20% is the creative. Where do you spend your time and energy? https://bloomerang.co/blog/youve-likely-got-a-problem-with-your-nonprofit-mailing-list/
Nonprofit fundraisers are in the Happiness Delivery business – As nonprofit fundraisers, it is incumbent on you to proactively take actions to bring your constituents joy. https://bloomerang.co/blog/nonprofit-fundraisers-are-in-the-happiness-delivery-business/

Leadership
When should leaders own a decision, and when should they delegate? Four questions to consider to become a more efficient decision-maker.
https://insight.kellogg.northwestern.edu/article/how-should-leaders-make-efficient-decisions?utm_source=subscriber&utm_medium=email&utm_campaign=pianomailer032021&pnespid=lPJz8PtSBlONmnSM0KDxaYEOnGDN9OvAY_LYvaMg

Marketing & Communication
The Plus One Method: A "Why Didn't I Think of That" Method for Simple, Effective Digital Nonprofit Networking – The Plus One Method is a useful stopgap between financial fundraising drives. It energizes the supporters, brings them closer to the core mission of the nonprofit, and gives them the chance to make a difference on a level outside of their normal contribution. https://bloomerang.co/blog/the-plus-one-method-a-why-didnt-i-think-of-that-method-for-simple-effective-digital-nonprofit-networking/

CMO survey and trends to watch https://deloitte.wsj.com/cmo/2021/04/02/the-cmo-survey-pandemic-transforms-marketing/?mod=djemCMOToday
---
eDevelopments Disclaimer
Unless they are NAYDO members, sponsors or exhibitors, the websites, consultants and other resources cited in these articles and links are not endorsed by NAYDO. The information is provided as food for thought only!
---
Have an accomplishment or inspirational Y story to share? Contact Kristen Obaranec.