NAYDO eDEVELOPMENTS
June 2022 News & Updates from North American YMCA Development Organization

eDevelopments Sponsor
With T-Mobile's Work Perks,
YMCA employees can save $450/yr. and get unlimited Talk, Text,
5G Data, plus premium features.
The program offers waived activation fees, free standard shipping, and is combinable with all device offers. Keep or trade in your phone. T-Mobile will pay off balances up to $650/line. Visit
T-Mobile Employee Perks
or call 855-570-9947.
.........................................................................................................................
Message from the NAYDO Chair


SHAPING OUR FUTURE TOGETHER
Dear NAYDO Members,
We're undergoing a period of transition at our Ys as we slowly move out of Covid restrictions and plan for future successes. Many Ys are revamping or creating new strategic plans. Philanthropic support is needed now more than ever, so priorities are changing. Fueled by the generosity of our communities, we will continue to transform our Ys based on local needs.
The same goes for NAYDO and the annual conference. Under the leadership of Conference and Operations Director Mary Zoller, NAYDO staff, Council members and volunteers work from a detailed plan and timeline. We're focused on the NAYDO Conference in Houston April 11-14, 2023. There is much to be done at the June NAYDO Council meeting and through our committees to fulfill NAYDO's mission of inspiring and strengthening the philanthropic culture of the Y.
NAYDO provides webinars, networks, past conference recordings, and lots more for Y staff and volunteers. Fellow NAYDO members are some of the best resources you can access anytime. Be sure to take full advantage of your membership. Get involved and let me know how NAYDO can better meet your needs.
NAYDO continually evolves and tackles new challenges. Your ideas and input are essential as we engage, learn, discover, evolve, and shape our future together.

In Y service,
Zane Korytko
NAYDO Council Chair
Chief Executive Officer | Directeur General
YMCA of Greater Moncton| YMCA du Grand Moncton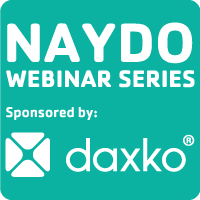 MONTHLY WEBINARS
June 16, 1:30 p.m. Central / 2:30 p.m. Eastern
Am I Making the Right Decision? The Role of Professional Ethics in Volunteer Engagement
Presenter: Faiza Venzant, CVA - Executive Director, Council for Certification in Volunteer Administration
We all face sticky situations involving volunteers where "the right thing to do" is not obvious. This session will provide participants with an overview of ethical core values and principles which apply to volunteer engagement. We'll also review a decision-making process for navigating real-life ethical dilemmas on the job, as well as tips on how to incorporate ethics into the fabric of your organization. Content is based on the Professional Ethics in Volunteer Management material developed by the Council for Certification in Volunteer Administration (CCVA).
>> Register
July 21, 1:30 pm Central / 2:30 pm Eastern
Meet Today's Donors: How the Pandemic Changed Giving Expectations
Presenters: Kelly Velazquez-Hague, Vice President of Marketing, and Karrie Wozniak, Chief Marketing Officer, OneCause
Is your cause ready for the future? The need for "frictionless" philanthropy is here. Donors expect and want simple, on demand, and choose your own adventure giving. From fundraising events to online campaigns, generosity joins forces with easy-to-use technology to create flexible options for your supporters. Today's consumers want ease, immediacy, and self-curated experiences.
>> Register

Looking Ahead - registration coming soon
August 18 - Modern Nonprofit Sponsorship, Deborah Marshall, AmFund
September 15 - Capital Campaigns, Amy Eistenstein, ACFRE, Capital Campaign Toolkit
October 20 - Not Your Grandma's Nonprofit Board: New challenges, practices and solutions, Christal Cherry, The Board Pro
November 17 - Making the Ask, Jon Simons, DBD Group
December 8 - A forum/discussion on The Red Book for YMCA Annual Campaigns
NAYDO 2023 IN HOUSTON - LAUNCHING INNOVATIVE PHILANTHROPY
Sneak Preview
Due to Easter weekend, NAYDO 2023 will launch its festivities on Tuesday, April 11. The closing party will be Thursday, April 13. Don't miss Friday's optional, add-on sightseeing tour to Space Center Houston. Get a glimpse of the visit. You won't want to miss it!
Top 5 reasons the city of Houston is a great destination for NAYDO 2023
1. Houston's Culinary Scene If you haven't tuned in to the latest season of Top Chef hosted in Houston, you are missing out! Sometimes known as the Culinary and Cultural Capital of the South, Houston is a melting pot of unique restaurant experiences. From food trucks and dining halls to award winning chefs, you will have some of the best places to dine nearby. More about Houston culinary scene
2. The Museum District Within a short light rail ride from the hotel, you can find museums representing multiple cultures including an incredible Children's Museum, multiple art museums, the Houston Zoo, and an outdoor theater. Find out more.
3. The Weather With an average high of 76F/24C and average low of 61F/16C, Houston's April weather will make you feel like you are on vacation!
4. Activities for the Whole Family The Zoo, the Children's Museum, the Museum of Natural Science, the heated Texas shaped pool at our conference hotel, and a nearby beach will keep your whole family having a blast. Fun things to do with kids in Houston
5. Get Out and Get Active Rent a city bike, take a run on the bayou, rent a kayak, walk the underground tunnels, visit the local Y, and more.

Hotel Reservations Open & 41% Already Sold Out
Don't miss next year's NAYDO at the Marriott Marquis Houston on April 11-14. Check out the info piece that includes registration costs, so you can budget now to attend. The hotel reservation link is included, also. Believe it or not, 41% of our room block is already sold out. Book your rooms now, and remember if your Y is booking 10 or more rooms, you can request a Sub-Block Agreement and supply the names in January. Send an email to info@naydo.org.

Conference registration opens September 26
A FIRE ALARM CONFIRMS THE NEED FOR MONTHLY GIVING ONCE MORE
By Erica Waasdorp, President, A Direct Solution
There I was, at NAYDO 2022, just 10 minutes or so into my presentation on Monthly Giving when the fire alarm went off. Everybody left calmly, looking for the nearest exit. And several minutes or so later, we were able to go back to the session room and continue the session. Fortunately, this was not a major disaster. There was no real fire, hurricane, tornado, flood, building collapse, or anything disastrous.
But it's just one more example of the importance of monthly giving. Because it allows the funds to come in, no matter what happens. No matter where it happens. Monthly gifts provides the reliable and unrestricted revenue you can count on to keep the lights on, to keep you going!
It's also extremely donor and member centric. Donors can make a difference in ways that are most comfortable for them. Many membership organizations allow monthly giving to pay for their dues (think public TV and radio stations, for example). And donors love helping the organizations they care about, but monthly gifts simply better fit their budget.
One of the discussions we had during the session was to offer monthly giving to Silver Sneakers' members especially. What do you have to lose by asking them to give in that way?
If you're not yet convinced that monthly giving is for you, let me just share some recent statistics:
Currently, one in every 40 online gifts comes from monthly donors. That's 3%.
And just in 2021, monthly giving grew by 24%, especially for those organizations that focused on it. Those organizations that had monthly donors when the pandemic started were in much better shape than those that didn't.
The reality is that it doesn't take much to get started. You have the tools. It's part of virtually every member/donor base CRM and every payment platform.
So, start by including recurring gift options on your online forms and create a separate recurring only and then just start linking to it. Start driving people to consider a monthly gift in your email updates and your renewal notes.
When I spoke at NAYDO, there were several YMCAs who shared that they had more than 100, one even had more than 300 monthly donors.
Look at your donor base and see who is already giving monthly. Ask them why. Then share their reasons why with others. And look at your donors and members who are giving you less than $250 at a time. That's your prime target group. What percentage of them are giving monthly now? What's their annualized value? Then create a goal, write it down.
You can reach that goal with a little bit of focus and a little bit of time. If you don't ask for monthly gifts, consider how easy it will be for your donors and you. Then start asking!
If you have any questions or are looking for resources, please don't hesitate to reach out.
ENGAGING PUBLIC OFFICIALS TOOLKIT
especially during August recess
coming Monday or Tuesday
2022 CONFERENCE RECORDINGS
The links for Conference recordings, slide decks, and handouts are in the Members Resources section of the website. If you need help accessing them, please email
Kristen
.
---
If others at your Y did not receive this newsletter, remind them to activate their Membership Benefits so they won't miss the next issue.
eDevelopments Disclaimer
Unless they are NAYDO members, sponsors or exhibitors, the websites, consultants, and other resources cited in these articles and links are not endorsed by NAYDO. The information is provided as food for thought only!