NAYDO eDEVELOPMENTS
February 2022 News & Updates from North American YMCA Development Organization

eDevelopments Sponsor

.........................................................................................................................
Message from the NAYDO Chair


ANTICIPATION!
Dear Friends,

Usually, I have a Billy Joel or Elvis tune rattling around in my head. But lately, it's a Carly Simon song from the '70s … "These are the good old days." She also sings, "We can never know about the days to come, but we think about them anyway." (Listen here. She's a Rock & Roll Hall of Fame Class of 2022 nominee.) - https://www.youtube.com/watch?v=PDJ_Mz8ftqI
I'm approaching the upcoming NAYDO 2022 Conference on YMCA Philanthropy with anticipation. There's so much to look forward to! Being with Y colleagues fills my soul. Meeting new friends – staff and volunteers – stirs my spirit. And the conference swirls in my mind with latest ideas from workshops, Hot Topics, NAYDO Networks, the Ys receiving awards, happy hours, walks on the Riverwalk, and impromptu gatherings.
We're seeing a shift toward greater reliance on philanthropic dollars to sustain our Ys and less revenue from membership and other earned sources. Sharing our experiences and what is working in our Ys is more important than ever. NAYDO creates connections that inspire, especially at this intersection of operations and philanthropy and at this critical time.
Whether you're able to attend the conference or not, please take advantage of the year-round webinars, network virtual events, conference recordings, and other resources available to you as a NAYDO member. Because, like Carly Simon, NAYDO stands the test of time.
See you in Tampa,
Zane Korytko
NAYDO Council Chair
Chief Executive Officer | Directeur General
YMCA of Greater Moncton| YMCA du Grand Moncton
T-MOBILE OFFER FOR YMCA STAFF

With T-Mobile's Employee Work Perks Program, YMCA employees can save 15% on a Magenta® MAX plan when you add 1 new voice line, providing a savings of over $450/yr. You get unlimited Talk, Text, and 5G Data, with no data throttling, plus premium features like Netflix on us, international texting and data, 40GB mobile hotspot data, up to 4K UHD streaming, and more.
T-Mobile's Work Perks program offers waived activation fees, free standard shipping, and is combinable with all device offers. Keep your current device or trade it in. T-Mobile will pay off device balances up to $650/line. Visit T-Mobile Employee Perks
or call 855-570-9947 to get started. Visit our booth in Tampa!
2022 NAYDO CONFERENCE - Only 70 Spaces Left
Not yet registered but still considering it? There are only 70 spaces left until capacity is reached and registration will be closed. Delay your decision no longer! Register NOW for the conference.
Note: If you get the Non-Member rate when you register and your Y is an Association Member, it means you have not activated your membership benefits. Use this link to do that first.
We are thrilled with the response to our in-person conference April 6-9 in Tampa and look forward to seeing so many of you there.
Need Hotel Room Reservations?
If you are registering now it is recommended that you arrive on Wednesday, April 6, due to lack of available hotel rooms on Tuesday and depart on Saturday, April 9. NAYDO has 4 official conference hotels:
The JW Marriott Tampa and Tampa Marriott Water Street, where conference events take place, have been sold out for months
The Westin Tampa Waterside overflow is sold out. NAYDO is contracting with Embassy Suites Tampa Downtown Convention Center as an additional overflow for those on the waiting list.
We guaranteed hotel rooms to those who registered by the January 31 deadline. You can still get on the waiting list as we will assist you but cannot guarantee at this point.


To Get on NAYDO Hotel Waiting List
Supply the following information to Mary Zoller at info@naydo.org:
- Contact Person Name, Email, and Company Name
- Total Number of Rooms
For Each Room:
1. Name
2. Email for Confirmation
3. Arrival and Departure Dates
4. King Bed; 2 Queens; Doesn't Matter
You must take first available if getting on wait list at this time.

Have Hotel Reservations With Extra Rooms or Specific Nights to Cancel?
PLEASE DO NOT CANCEL THEM DIRECTLY WITH HOTEL - HELP NAYDO's WAITING LIST!
Those on our NAYDO waiting list cannot access those nights once you cancel them directly with the hotel. However, you can help a fellow Y conference attendee who just needs that Tuesday or Friday night or someone who has no room on any nights. Contact Mary Zoller at info@naydo.org or 504 858 3379 with the following:
• Hotel name
• Person's name on reservation
• Confirmation number
• Arrival & departure dates
• Changes you are making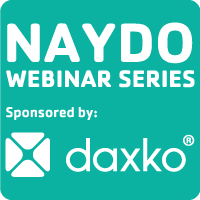 February 17, 2022, 1:30 pm Central
Busting Fundraising Myths
Presenter: Adam Clevenger CFRE, Partner, Loring, Sternberg & Associates and YMCA Alumni
Myths and misconceptions are everywhere in fundraising! Where do most charitable gifts come from? Who are most likely donors? What are the best ways to solicit donations? Everyone might have a different answer to these questions, but most people probably get them wrong. This session will bust the most popular fundraising myths and provide research-supported solutions to assist your fundraising outcomes.
Attendees will:
- Understand the fundraising landscape
- Discover common donor characteristics
- Better understand solicitation methods
>> Register

Upcoming
March 17, 2022, 1:30 pm Central
Forever ALL Society – Multi-Year Annual and Endowed Giving
Presenter: John Nitardy, Senior VP for Advancement, YMCA of Metropolitan Dallas
John will present a multi-year giving opportunity that includes maintaining a donor's annual gift while encouraging them to establish a legacy gift to immediately impact the Y and the individuals we serve FOREVER. He will discuss the identification, cultivation and stewardship of a legacy donor, and the benefits of establishing an endowment with CASH versus a planned gift that the donor never realizes.
>> Register
2022 Eagle Award Recipients
Congratulations to the
YMCA of Catawba Valley
in Hickory, N.C., and the
YMCA of Greater Houston
, NAYDO's Eagle Awards for Excellence in Fundraising 2022 honorees. The Eagle Award is designed to recognize Associations who are integrating philanthropy into all aspects of YMCA work. The award is presented annually to YMCA Associations who have demonstrated outstanding achievement in YMCA Financial Development. Because there are budget size categories, more than one Y can win each year. These Ys will be recognized at the Impact Awards Luncheon at the Conference.
What makes a successful fundraiser?
Mary Breeden is the top campaigner at the YMCA of Greater Spartanburg. She is well on her way to a 2022 goal of raising $42,000. What are the keys to Mary's success?
Like a typical Y staff member, Mary handles lots of duties. She washes and folds towels, hands out locker keys, is a greeter, answers the phones, and helps to keep the Y clean. A 9-year employee, Mary is loved by all. In that time, she has raised more than $210,000.
"People can't tell me no," Mary says! "I love to talk to members, and I know them. I feel so loved and people respond. I am comfortable asking them to help others, because I believe strongly in the Y mission and know it is a great cause."
Mary especially appreciates that the members who receive Y scholarships find ways to give. "It warms my heart to know they make ways to afford to give a little bit," she says.
Director of Mission Advancement Cassie Lloyd, M.Ed., CFRE, says, "Mary is high EQ (emotional intelligence) and very tuned into people. She has a sharp sense of when and how it is appropriate to ask. Mary understands how to invite people to participate and make them feel good about giving."
Mary also raises money for the local Cancer Association so people can access treatments, wigs, gas cards, and more. She likes the Y's connection of LiveSTRONG to this important cause.
Look for Mary at the NAYDO Conference in Tampa, and be sure to say hi! She may just give you a few additional tips for success.


Mary with donor fan Rick Dent and at work at the Y
NAYDO Note: Thank you, Mary, for sharing your tips with us. We're glad you are part of NAYDO and the Y. I bet many of us have a Mary at our Ys who, if given the opportunity, could spread joy and inspiration, and show our members, volunteers and staff a thing or two about reaching our full potential.
NAYDO NETWORKS
The next network events will take place at the conference. NAYDO Networks offer additional insights, ideas, and discussion. You can join in any or all of the 10 Networks. Virtual network events will resume this summer.
Staff New to Leading Y Development Smaller Ys (<$4m) Operations Staff Volunteers in Philanthropy Grant Writers Camping Professionals
Marketing & Communications Program & Membership Staff International/Diversity, Equity, Inclusion Young Professionals

For more information on Networks, contact the NAYDO Office or Erica Halpern, NAYDO Networks Coordinator. To receive event invitations by email, add a specific network to your record. Simply reply to this email or use this link to MODIFY your record and add it yourself.
TIPS & TACTICS
MarComm
Plan ahead: direct mail may see some supply challenges Nonprofit Pro
Donor Relations
Fending off donor fatigue by CJ Orr, The Orr Group
Annual Campaign
Donor-centered fundraising is not about money Claire Axelrad, CFRE
Ops
In the midst of 2022's shifts and uncertainties, here are 12 things Canadian sector leaders say we need to keep top of mind in the year ahead.
The Philanthropist Journal

Workers say they care more about flexible schedules than remote work. Future Forum/WSJ
---
If others at your Y did not receive this eblast, remind them to activate their Membership Benefits so they won't miss the next issue.

eDevelopments Disclaimer
Unless they are NAYDO members, sponsors or exhibitors, the websites, consultants, and other resources cited in these articles and links are not endorsed by NAYDO. The information is provided as food for thought only!
---
Have an accomplishment or inspirational Y story to share? Contact Kristen Obaranec.