NAYDO eDEVELOPMENTS
August 2022 News & Updates from North American YMCA Development Organization
.........................................................................................................................
Message from the NAYDO Chair


Ys ARE RELEVANT AND RESILIENT
Dear NAYDO Members,
We're planning for 2023 at my Y. It's hard to know what the new year will bring with membership, program participation, fundraising. We're discussing the unknowns of the economy and inflation, a recession, a resurgence of Covid. Who knows what else will surface as January approaches?
The pandemic shutdown of our Ys taught us to be flexible and resilient as we remain relevant. We also learned we need innovative ideas as we move forward. We must elevate the Y in our community as a place to belong, bring people together, and solve urgent issues.
It's the same with NAYDO as Council Members and staff plan for the 2022-2023 membership year that begins September 1. We're the same organization but are addressing vastly different challenges and solutions than we were three or four years ago.
Philanthropy and fundraising are priority needs identified by our Ys. NAYDO is a valued resource for current ideas, proven practices, shared materials, and helpful networks. It's exciting to note that nearly 50% of our Association Members renewed during the first week of the enrollment period for the upcoming year, and already there is enthusiasm building for the opening of NAYDO 2023 Conference registration in September.
Eagle Award winners tell us that NAYDO learnings set them on a successful philanthropic path. Let's continue to share and apply what we learn from each other, because that may be what sustains us during challenging times and positions our Ys for long-term sustainability.
In Y service,
Zane Korytko
NAYDO Chair
Chief Executive Officer | Directeur General
YMCA of Greater Moncton| YMCA du Grand Moncton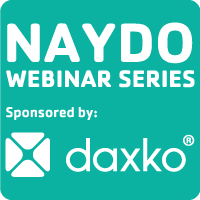 MONTHLY WEBINAR
Held at 1:30 pm Central
August 18 - Modern Nonprofit Sponsorship AmFund

Presenters:
Deborah Marshall, Chief Operating Officer & Senior Vice President, and Kalley Dunn, Director of Strategic Initiatives & Senior Development Director, American Fundraising Foundation, AmFund
This workshop will highlight the importance of cultivating new sponsors for your organization as well as keeping current fiscal sponsors engaged and elevated to the next level of giving. The topics covered will be highly applicable to fundraising events, campaigns, and marketing efforts for your nonprofit organization. Come ready to craft your YMCA's next large sponsorship proposal!
Key takeaways will include:
Crafting a modern sponsorship proposal

Where to look for new sponsors

Unique and fun ways to engage with current/new sponsors
>> Register
NEW NAYDO MEMBERSHIP YEAR STARTS SEPTEMBER 1
It's Membership Re-Enrollment Time!
The NAYDO Association Membership Contact from each Member Y received the email link on July 25 officially opening the re-enrollment period for the new NAYDO Membership year, September 1, 2022 - August 31, 2023. As of August 8, over half of all Association Member Ys have renewed.
CONGRATULATIONS to John Alexander, CEO of the Owensboro Family YMCA in Kentucky, winner of the FREE registration. Every Y that enrolled in July received 2 chances on the registration. The Owensboro Y was the lucky winner this time, but longtime members know there will be other contests throughout the year.
If your Y has not renewed or you know a Y that would like to join, here is the Membership link.
That membership link will complete Step 1 in the enrollment process to continue your Y's involvement (or to join) as an Association Member for the new NAYDO year. Only 1 person at your Y completes Step 1, but everyone must complete Step 2 on or after September 1 when the new membership begins.
Step 2 involves activation of membership benefits for all staff and volunteers who contribute to creating a culture of philanthropy at your YMCA. If your Y has re-enrolled staff and volunteers who were members in the 2021-2022 membership year, they will receive a September 1 email invite to activate their benefits along with new Association Contacts who have enrolled since July 25.
Why do I have to activate Member Benefits?
• NAYDO needs your permission annually to send emails to you.
• Your information will auto-populate, but you may want to update it.
• This is your opportunity to sign up for NAYDO Networks: your interests may have changed since last year.
NEW this year! You can register for the conference at the same time if you want.
If you have questions about this process, simply reply to this email. NAYDO staff are happy to clarify further.
LOOKING AHEAD
What's Coming i
n the New NAYDO Membership Year for Those Ys Who Renew
September 15 - How to Plan an Effective & Efficient Capital/Comprehensive Campaign Using New Tools & Technology
Presenter: Amy Eisenstein, ACFRE, Capital Campaign Toolkit
If there is a capital/comprehensive campaign in your future, this webinar is for you! A campaign is likely the largest amount your organization has ever tried to raise … often even 10 times more than you currently raise. The good news is that you don't have to do it alone! There are tools, technology, and virtual resources to help you on your path. Join Amy Eisenstein to learn how to prepare for a campaign and create a campaign plan using the latest tools to ensure your campaign is a success.
You will learn tips and strategies on:
• Learn the critical stages and timeline of a campaign
• Identify new resources available to help make your campaign effective and affordable
• Leave feeling confident and empowered about planning a successful campaign
October 20 - Not Your Grandma's Nonprofit Board: New Challenges, Practices and Solutions
Presenter: Christal Cherry, The Board Pro
In this webinar, you will be empowered to set a solid strategy to respond to the pressing obstacles in this new and complex nonprofit climate. We will discuss strategies for steady board engagement, solid fundraising, and creating a culture of inclusion, access and belonging.

November 17 - Take the Pain Out of Your Ask
Presenter: Jon Simons, DBD Group
In this webinar, you'll learn three strategies that work together to help you prepare, ask and steward a gift … without the pain.

December 8 - YMCA Day of Giving: An Effective Strategy for Fundraising and Communications
Presenters:
David Frederick, Executive VP, Chief Strategy & Brand Officer, YMCA of San Diego County
Carrie Collins, Senior VP, Chief Advancement Officer, YMCA of Northwest North Carolina
Charlie Myer, YMCA Consultant/Retired YMCA Professional
Plan now for YMCA Day of Giving on March 7, 2023. We'll discuss how a YMCA Day of Giving can become a successful tool to engage members, donors and volunteers in the Annual Campaign and create greater visibility for your YMCA in the community.
WELCOME ERICA HALPERN
Erica Halpern is NAYDO's new Networks Manager. She started in this part-time position August 1. Erica has been with the YMCA of New Orleans since 2014 and served as Development Director. She was the 2018 NAYDO Conference co-chair and is a Young Professionals Class of 2015 alumna. Erica serves on various conference committees, most recently as the Networks Coordinator. Please join in welcoming Erica to the NAYDO staff team. And be sure to contact Erica if you have questions about NAYDO's 10 Networks.
ENGAGED BOARDS WILL FUNDRAISE!
Good Governance Will Inspire Them
Long-time NAYDO supporter and speaker Brian Saber is a subject matter expert on boards and governance. His NAYDO Conference workshops are among our most popular. At this year's conference in Tampa, he conducted a Board Development Fundamentals session along with several workshops and Hot Topics.

Brian says fundraising is the hardest work you ask your board members to do. If they're not fully committed and engaged and they don't feel they have a strong stake in your organization, they aren't going to fundraise for it. In a new groundbreaking book, Brian and Michael Davidson bring their collective expertise and 20 years of working together on governance and fundraising issues to help you understand how good governance is a means to inspire your board to fundraise. Thanks, Brian, for writing this new book and giving us a roadmap for good governance!
WHAT NONPROFIT BOARDS SHOULD KNOW ABOUT BLACK PHILANTHROPY
August is Black Philanthropy Month, a collective effort founded in 2011 by Dr. Jackie Copeland who defines it as "a global celebration and concerted campaign to elevate African descent giving and funding equity."

Chrystal Cherry, The Board Pro, is a NAYDO presenter, and you can learn from her on the October webinar. With her work in Diversity, Equity, Inclusion, Access and Belonging with mostly white nonprofit boards, Chrystal says it has become painfully obvious that knowledge gaps between the races is a significant barrier for diversification of boards and inclusionary practices in board work. Read
Chrystal's blog
.
LAUNCHING INNOVATIVE PHILANTHROPY
NAYDO 2023 in Houston
NAYDO 2023 will launch its festivities on Tuesday, April 11. Celebrate with a Rodeo Roundup Party Thursday night, and close with an optional tour of the Houston Space Center on Friday, April 14. Get a glimpse of the visit. You won't want to miss it. The Conference and Host Y committees are doing great work!
What's Coming in the Conference Brochure
• Over 70 Exhibits (so far) on 2 floors right outside your meeting rooms
• 2 YMCA Impact Tours
• 4 Philanthropy Live! Projects (1 is a Drop-in project onsite)
• 4 Fundamentals sessions
• 2 Rounds of Hot Topics
• 10 Networks
• 9 Sponsor Showcase Workshops
• Over 50 Educational Track Workshops
• Round 6 Reinvented with Hot Topics, Philanthropy Forums, and some Workshops!
• Plus ... Special Sessions, Receptions, Rodeo Roundup Party, Houston Space Center Tour, and more.

Hotel Reservations Open & 78% Sold Out
NAYDO 2023 is April 11-14 at the Marriott Marquis Houston. Currently all rooms on Thursday night are sold out but NAYDO has contracted for additional rooms and the hotel will be adding them next week. Thank you for your patience. We have never sold out before opening registration before but really happy so many of you are planning to come!

This info piece includes registration costs – budget now to attend. Use this hotel reservation link. If your Y is booking 10 or more rooms, you can request a Sub-Block Agreement and provide the names in January. Send an email to info@naydo.org.

Conference registration opens in September
TIPS & TACTICS
Financial Development
Donor Engagement Signals and Strategies Bloomerang
New Perspectives on Building Inclusive Naming and Recognition Practices Campbell & Company

Marketing & Communications
Writing Tips for Fundraising FreeWill
• Top 3 ways to reach donors: 1. In-person visit 2. One-to-one/personalized email 3. Phone/video call
• Today, 81% of emails are read on phones
• The average person receives 63 emails per year from a nonprofit and half are appeals. Make yours stand out
• Keep content short – 2 or 3 paragraphs, 50-125 words, written at a 3rd grade level
• 42% of donors prefer a specific, standalone email with one message or idea instead of a newsletter
• Within an email, make the ask 3 times
• Sign your email from one individual, not the organization
eDevelopments Disclaimer
Unless they are NAYDO members, sponsors or exhibitors, the websites, consultants, and other resources cited in these articles and links are not endorsed by NAYDO. The information is provided as food for thought only!

eDevelopments Sponsor: T Mobile Work Perks
With T-Mobile's Work Perks, YMCA employees can save $450/yr. and get unlimited Talk, Text, 5G Data, plus premium features. The program offers waived activation fees, free standard shipping, and is combinable with all device offers. Keep or trade in your phone. T-Mobile will pay off balances up to $650/line. Visit T-Mobile Employee Perks or call 855-570-9947.